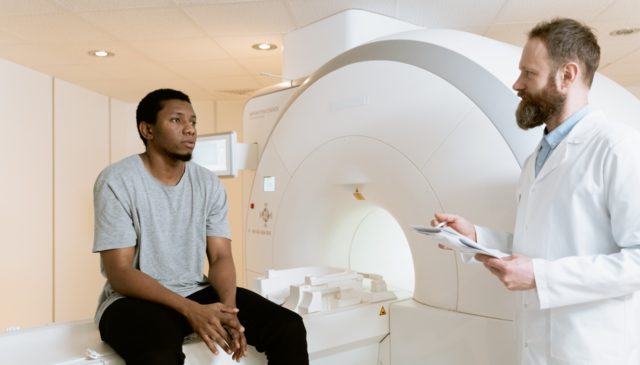 Cannabidiol (CBD) is a cannabinoid molecule derived from cannabis that has gained a reputation for relieving symptoms of inflammation and muscle spasticity, and reducing symptoms of anxiety and depression. This has led researchers to believe that CBD could be beneficial in multiple sclerosis (MS). An estimated 2.3 million people worldwide have multiple sclerosis [2]. This central nervous system disorder causes demyelination of neurons, leading to symptoms such as pain, muscle tightness, fatigue, inflammation, and depression.
In rodent models and some human studies, CBD has shown benefits in the symptoms of MS. Its effects, such as regulating T-cell activity and inflammatory factors, are believed to be particularly beneficial in improving MS symptoms such as pain, inflammation, and muscle spasms [1]. CBD has also shown the potential to relieve mood-related symptoms, such as anxiety and depression, that many people with MS suffer from [2].
CBD and another cannabinoid tetrahydrocannabinol (THC) for MS have been recommended in a CBD: THC ratio of 1: 1 or higher [2]. The 1: 1 preparation called "Nabiximols" is one of the most commonly used in scientific studies on CBD for MS [1]. The dosage recommendation for non-THC CBD in MS has not yet been fully understood and remains a major topic for clinical recommendation of CBD in MS.
CBD acts on the body through the endocannabinoid system and its receptors. This body system regulates the functions of the immune system and the nervous system. CBD can work in many ways. One of the most important mechanisms of action in MS is to suppress inflammatory factors and to modulate the response of the immune and nervous systems. By reducing the release of inflammatory factors, a person can experience less pain and better mobility.
Why Do Doctors Not Recommend CBD for Multiple Sclerosis? The answer is mainly that there are still no major human clinical trials. Many doctors have started recommending medicinal cannabis or nabiximol to their patients. However, without clinical study data and formal dosage recommendations, some doctors cannot yet recommend CBD for MS. Researchers suggest that using CBD in MS could eliminate or reduce the use of riskier drugs like opioids [2]. So there is much hope that CBD will become a more accepted option for MS patients.
References
1- Furgiuele A, Cosentino M, Ferrari M, Marino F. Immunomodulatory potential of cannabidiol in multiple sclerosis: a systematic review. Journal of Neuroimmune Pharmacology. 2021; 16 (2): 251-269. doi: 10.1007 / s11481-021-09982-7 Retrieved June 20, 2021 from https://link.springer.com/article/10.1007/s11481-021-09982-7
2- Rudroff T, Sosnoff J. Cannabidiol for improving mobility in people with multiple sclerosis. Limits in Neurology. 2018; 9. doi: 10.3389 / fneur.2018.00183 Retrieved June 20, 2021 from https://www.frontiersin.org/articles/10.3389/fneur.2018.00183/full
Picture: https://www.pexels.com/photo/photo-of-man-sitting-on-a-ct-scanner-7088488/ from MART PRODUCTION from Pexels